La Hacienda Naxos Tiled Firepit
Several people are finding out how nice and pleasing it can be to have a fire pit in their patio. On the other hand, if you would like to get most enjoyment from your fire pit, in that case you should think about purchasing La Hacienda Naxos Tiled Firepit. It is not a necessity that you cannot live without. La Hacienda Naxos Tiled Firepit is a great way to enhance your outdoor furniture living area, entertain with ease, and turn your yard into a welcoming gathering place. Naxos Tiled Firepit can become a central place for friends and family, but not only just for enjoying the warmth of a fire.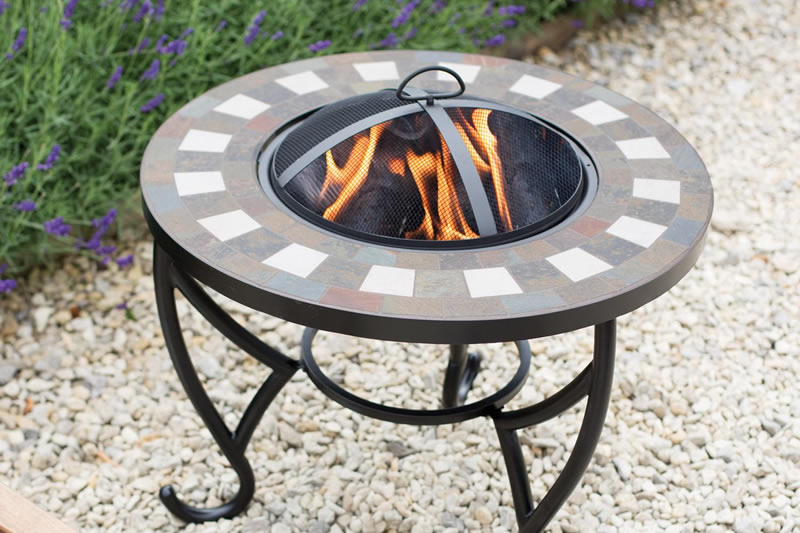 The La Hacienda Naxos Tiled Firepit is very attractive, and is designed to keep a fire under control and to keep it from spreading. It features a ceramic tile top, this firepit helps to add warmth to your outdoor space and creates an attractive focal point. The tiles are of natural tones which create a subtle yet ornate finish that will perfectly complement any outdoor patio.
Naxos Tiled Firepit not only add beauty and style, but they also offer dual functionality. When you are not using your fire pit as a place of warmth, there are many other ways you can use it. This dual functionality ensures that you are getting the most use and enjoyment out of your fire pit.
La Hacienda Naxos Tiled Firepit is made from a durable steel construction with a black finish on the frame and featuring a mesh safety cover and metal tool, the Naxos firepit is great for staying warm and toasty whatever the weather. Height 70cm and diameter 70cm.
People love the idea of having guests gathering around Naxos firepit especially if the weather is on the cool side. There is nothing more relaxing than staring into a fire. They are also used on patios and decks and around pools. Some homeowners even decorate an area with furniture for their guests' comfort with the Naxos firepit as a focal point. Toasting marshmallows over them is a popular activity.
However while using Naxos firepit, you need to keep in mind that safety precautions are important. History shows that at one time a fire watcher was chosen to prevent the fire from going out or from spreading. In modern times it is also necessary to be vigilant. Keep the Naxos firepit away from dry leaves or other burnable items. Make sure someone is always in attendance, and observe local no burn days. Do not allow the smoke to irritate the neighbors or cause air pollution.
The blessing of Naxos Tiled Firepit is that they can be moved to the most convenient location. Do not use them on a windy day, and keep children away from them. Be sure to cover them with their screen to prevent sparks. You can also purchase covers for them to use in inclement weather or for storage.
Don't burn trash or scrap lumber in a firepit; use only wood or compressed logs. Don't overload the firepit. Keep a fire extinguisher or a hose close by. Due to the increase demand for La Hacienda Naxos Tiled Firepit, they are becoming a "must have" for outdoor fun. You and your guests will enjoy sitting around Naxos Tiled Firepit on many summer or fall evenings.
You can come across Naxos Tiled Firepit in home décor magazines and home improvement stores across the country in addition to are available on line as well. Just search online, you will come across online shops that sell Naxos Tiled Firepit. Several people are using the on line choice given that vendors are in fierce competition and provide hard to believe discounts. The Naxos Tiled Firepit add an air of sophistication to any backyard outside. They are easy to use and easy to clean. You would like to host parties and small gatherings only to show it off.
If you reside in a region where the temperature falls lower than the sub-zero level, you might need to think about La Hacienda Naxos Tiled Firepit. This firepit is made with materials that can survive any temperatures, whether it is hot or cold. They add good looks and stylishness to your home's backyard and will soon be the envy of all your near and dear ones.