Garden Fire Pits & Bowls for Every Garden
Patio areas not only look great, but are ideal for relaxation and social gatherings, so make a a fantastic addition to almost any garden. A fire pit or fire bowl doesn't just keep you and your guests warm, you can also use it to toast marshmallows with the kids or even use it as a barbecue!

Best Fire Pits
Let's take a look at some of the best fire pits available online at the moment.
Camping Firebowl with Grill, Folding Legs and Carry Bag by La Hacienda
This portable black firebowl is ideal for camping or picnics and comes complete with folding legs and carry bag. The fire bowl uses a lightweight steel construction and features a chrome BBQ cooking grill with log grate plus a tool for raking ashes, and a mesh spark arrester. The legs are securely held in place using a pin system and everything fits nicely in the carry case provided. It's easy to get the fire going using some kindling and newspaper, then simply add logs of larger sizes as the fire gets hotter until you have a nice warm fire after 30-60 minutes.
However, you do need to be careful using this fire pit as the ground underneath does get really warm, so use on stone not on top of lawn grass as it may well burn the grass area over time. This bowl is great for camping, using on the beach, or for a back garden barbecue. The item looks high quality in it's black heat resistant paint finish and measures 56 cm x 39 cm.
Black Steel Garden Firepit by east2eden
This camping fire pit comes complete with it's own poker, BBQ grill and a mesh lid. Made from quality steel and finished in black heat resistant paint, this firepit looks great in the back garden, or can be taken on camping trips or on the beach, being lightweight but strong and portable. The large diameter of 55cm also means you can fit a decent amount of food on it to cook simultaneously.
Lucio Steel Portable Fire Bowl & BBQ With Folding Legs by UK-Gardens
The Lucio Fire Bowl is versatile and can be used on holiday, on the beach, or in your garden. The fire bowl comes with a charcoal grill, BBQ grill, spark arrester guard and a special tool to lift the grill when hot. Everything comes neatly packed in a convenient carry bag with an adjustable shoulder strap.
The surface of the fire bowl is Enamel coating for a long life and to protect against rust if left outside in wet weather. The bowl measures 56cm x 39cm and provides enough heat to keep warm long after the sun has gone down, think of this item as a garden Chiminea with a BBQ and folding legs so it can be stored neatly when not in use.
How to Build your own Fire Pit
Creating a fire pit is relatively simple and makes a great practical feature and conversation piece for social events outdoors. A well built fire pit will quickly become the key focal point in your garden, so make sure you have enough space around the fire pit for tables and chairs. But you also need to make sure you position it a good few yards away from trees, bushes and buildings!
If you decide to get a local contractor in to build a fire pit it should be a cheap job as you can buy all the materials required cheaply from any DIY store and it's an easy job to do. On the other hand, if you are not averse to a spot of DIY, then read on for a simple guide on how to build your own garden fire pit.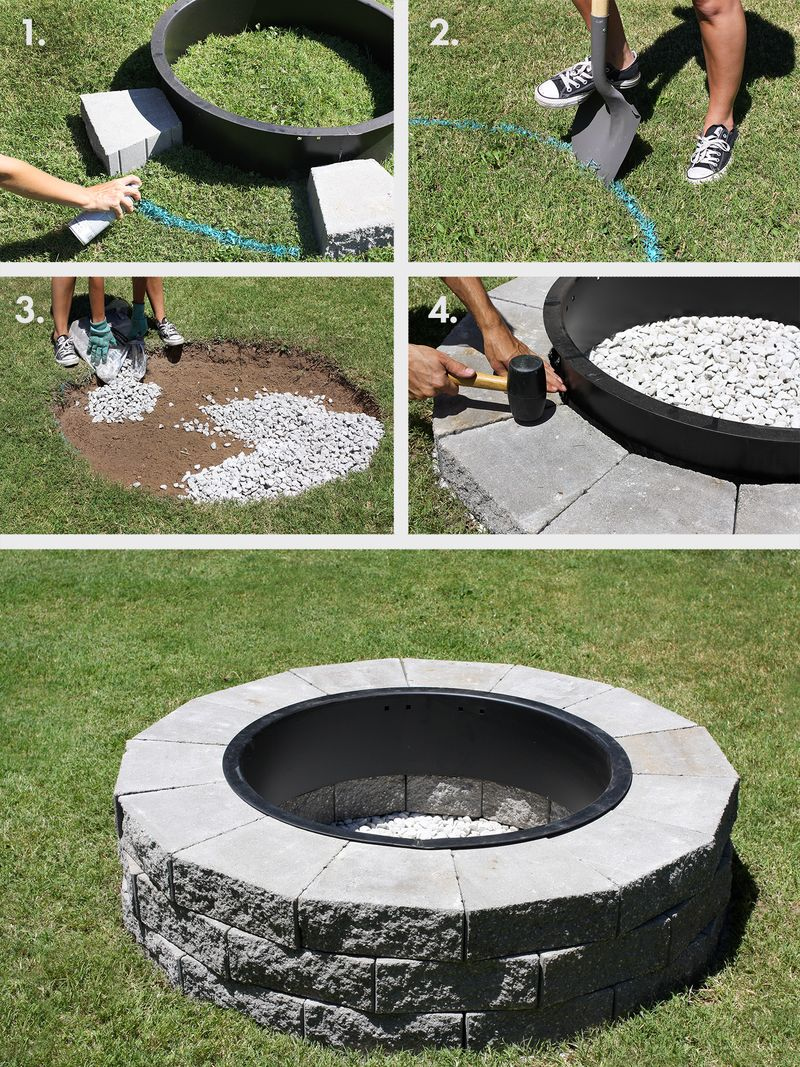 The first step once you have decided on the materials required and the type of fire pit you require, is to mark out your fire proposed fire pit. Most fire pits are made from bricks or stones which are designed to deal with the high temperatures. Once the location is marked out, dig down around 18 inches and then fill with gravel for drainage. Then lay sand on top and level off. Finally, lay the bricks or stones around the pit in courses taking care to leave a few openings between them for good air circulation.
Last step – buy some marshmallows and kebabs, invite some friends round and light up the first fire and enjoy your very own garden fire pit! The entertainment factor involved in a fire pit is not to be underestimated, but they are practical too, a great way to extend your space to the outdoors and provide an opportunity to cook up some food with friends and family, allowing you to extend your entertaining seasons outside of the short British summer and into chillier evenings.
But even if you aren't into entertaining, your own fire pit offers the perfect opportunity for relaxing and is worth the investment for the ambiance alone.